This blog is cracking. I have to say after that Max Headroom era lull, I think we're back to new now. Also I've acquired a street team and they gave me some bad news. In light of that, we've got to turn our attention to these show-biz dads who are totally walking eagles/camera hogs. I've had my fill of them...
Matthew Knowles is the mastermind behind Destiny's Child. Some folks say Matty is a tough, exacting guy. I'll go along with that. Looks like he might be a jerk too. Last year a report surfaced that Knowles blew one million dollars on ladies of the evening and cocaine/marching powder/disco dust. There was also a report that Beyonce canned him as manager. I can't get any confirmation on that. According to that Wal-Mart Christmas commercial all's well. And oh yeah it just occured to me that wasn't a Christmas scene. That spot was probably recorded last August and like other holidays, Matthew tossed his presents in mid-air and cut and ran, to his girlfriend's house.
This is what I'm giving Matthew this year for Christmas. Take that, Mr. Loud and Wrong!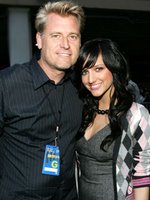 Just in case the deal with his daughter Ashlee doesn't work out, Joe's got a lookalike all lined up...
Knowles and Simpson are the opposite side of the same ol' unlucky penny. I mentioned my dislike for Simpson on this blog 15 years ago and I'm not liking him a whit more. I can confidently call Joe Simpson a little creepy and a Nosy Parker. Anyway you slice it Joe Simpson is a bad showbiz dad. My crack team has found some particularly unsettling info on Joe...
"...We'll never know exactly why Joe Simpson shot Jim Arnold that Easter Sunday, April 19, 1908..."
Oh my. I had no idea. It's a mystery how Joe has eluded justice for so long. Here's some other stuff...

"...Bonnie and Clyde were infamous bank robbers who traveled the central United States during the Great Depression. Joe Simpson's a bad man..."
My goodness, I'm getting queasy now...