It was 1988 and it was time for a Brady Christmas. Oops, make that
A Very Brady Christmas.
By this point the cast of the classic 68-74 sitcom had reunited a few times. The most recent to this were a few debacles for NBC of all places. From what I can remember of this, Carol and Mike wanted to gather all the family members because it was storyline dictated.
In a few short years, we all saw how much the Brady's had changed, especially Cindy--someone else was playing her. The rest are pretty much the same. Marcia's hot powers are depleted by still being married to a loathsome dweeb. Jan was locked in a loveless and barely consumated union. Greg was a doctor and graduated with honors at Bedrock U. Peter fiddled with computers or something and dressed like a geek. Bobby was stripped of all of his acting abilities and decided to be a race car driver. Of course during the end of this everything was fine. Well not everything. I was saddened when Alice innocently came for a visit and those lazy Brady's put her back to work. The Brady's: Lazy, Selfish and Devilish...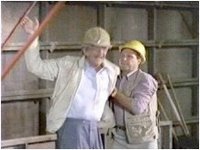 From 1988 to 1990, Levi's and Dockers offered their popular

Mike Brady: Mr. Construction Man Pantalones...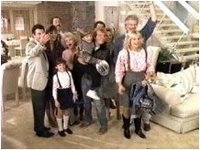 Merry Something or Other From The Brady Family, A Very Dysfunctional Family...